The Toronto International Film Festival® revealed today its Vanguard programme featuring new work from 14 daring filmmakers who are transcending the boundaries of creative vision where art house and genre films will spectacularly collide.
"Delving into the dark side of humanity and dangerously sexy, this year's Vanguard lineup has something unique for everyone," says International Programmer Colin Geddes. "We're leading audiences into a wild world of emotional sensations, demons and strange sea creatures — delivered with Vanguard's distinctive twist on storytelling."
The 2015 selection includes a mysterious fantasy from French director Lucile Hadžihalilović; an eccentric comedy from Spanish cult favourite Álex de la Iglesia; an erotic 3D epic from Gaspar Noé; a twisted family tale from Danish filmmaker Anders Thomas Jensen and South Korea's Ryoo Seung-wan busts out with action and thrills.
Films screening as part of the Vanguard programme include:
Kwon Oh-kwang, South Korea, World Premiere
Young and unemployed Gu is desperate to make some money and participates in a clinical trial for a pharmaceutical company's new drug. As an unknown side effect, he slowly transforms into a fish. This bizarre situation becomes Korea's hottest news and fish man Gu is catapulted into the spotlight and becomes a superstar, only to fall from grace just as quickly.
Marcin Wrona, Poland/Israel, World Premiere
Peter is a stranger in the hometown of his future wife Janet. As a wedding gift from the bride's grandfather, he receives a piece of land where the two can build a house and raise a happy family. While preparing the land for construction, Peter finds hidden bones of human bodies in the ground beneath his new property. Then very strange things begin to happen.
AKIZ, Germany, North American Premiere
When 17-year -old Tina passes out at a party, she assumes it was just the side-effect of her wild lifestyle on the decadent Berlin-party scene. Soon she becomes unsettled and nervously manic as a mysterious ugly creature starts to haunt her, in both her dreams and waking hours, and nobody believes her.
Lucile Hadžihalilović, France, World Premiere
A 10-year-old boy discovers a dead body in the sea just before he is brought to the hospital for a mysterious injection. Before long, something appears to be growing inside of him
.
Osgood Perkins, USA/Canada, World Premiere
In February, beautiful and haunted Joan makes a bloody and determined pilgrimage across a frozen landscape toward a prestigious all girls prep school, where Rose and Kat find themselves stranded after their parents mysteriously fail to retrieve them for winter break. As Joan gets closer, terrifying visions begin plaguing Kat while Rose watches in horror as she becomes possessed by an unseen evil force.
Harrison Atkins, USA, World Premiere
On a weekend trip to the Hamptons with friends, Ruth (Lindsay Burdge) encounters a mysterious ghost (Peter Vack) haunting the guest house. One thing leads to another and they find themselves in the throes of an unexpected one-night stand. Soon, Ruth begins suffering from a bizarre sexually-transmitted disease that leaves doctors and friends confused and frightened. As her body and social connections begin to disintegrate, she must find a way to reconcile her condition with the world around her, or risk losing herself to a void from which she may never emerge.
Gaspar Noé, France, North American Premiere
January 1, early morning. The telephone rings. Murphy wakes up next to his young wife and two-year-old child. He listens to his voicemail: Electra's mother, sick with worry, wants to know whether he has heard from her daughter. Electra's been missing for a long time. She's afraid something really bad has happened to her. Over the course of a long rainy day, Murphy finds himself alone in his apartment, reminiscing about the greatest love affair of his life: his two years with Electra. A burning passion full of promises, games, excess and mistakes.
Anders Thomas Jensen, Denmark, North American Premiere
Men & Chicken revolves around two special-natured brothers, Elias and Gabriel (Mads Mikkelsen and David Dencik). Upon their father's passing, they find out through their father's will that they are adopted. Elias and Gabriel decide to seek out their natural father and set out for the island Ork, where their biological father lives. Here they discover a most paralyzing, yet liberating truth about themselves and their family.
Álex de la Iglesia, Spain, World Premiere
The story unfolds amidst a frenzied and lavish New Year's Eve television special, taped during a sweltering hot August in Madrid. An unemployed Jose is sent to join hundreds of extras cooped up on set, day and night, as they hysterically celebrate the fake coming of the New Year — over and over again. The star of the show, Alphonso, is a charismatic ratings-chasing diva; and Adán, a young Latino singer, is being hounded by fans that are trying to blackmail him.
A.D. Calvo, USA, World Premiere
The Missing Girl
tells the story of Mort, the lonely and disillusioned owner of a comic book shop, and Ellen, the emotionally disruptive, aspiring graphic novelist he's hired. The story involves the search for a girl who isn't missing and the discovery that it's never too late for late bloomers.
Ryoo Seung-wan, South Korea, North American Premiere
A tough cop targets the tyrannical heir to a mega-corporation in this hard-hitting thriller from South Korean cult auteur Ryoo Seung-wan (
Crying Fist
,
City of Violence
).
Previously announced Canadian titles in the Vanguard programme include André Turpin's
Endorphine
, Bruce McDonald's
Hellions
, and Mark Sawers'
No Men Beyond This Point.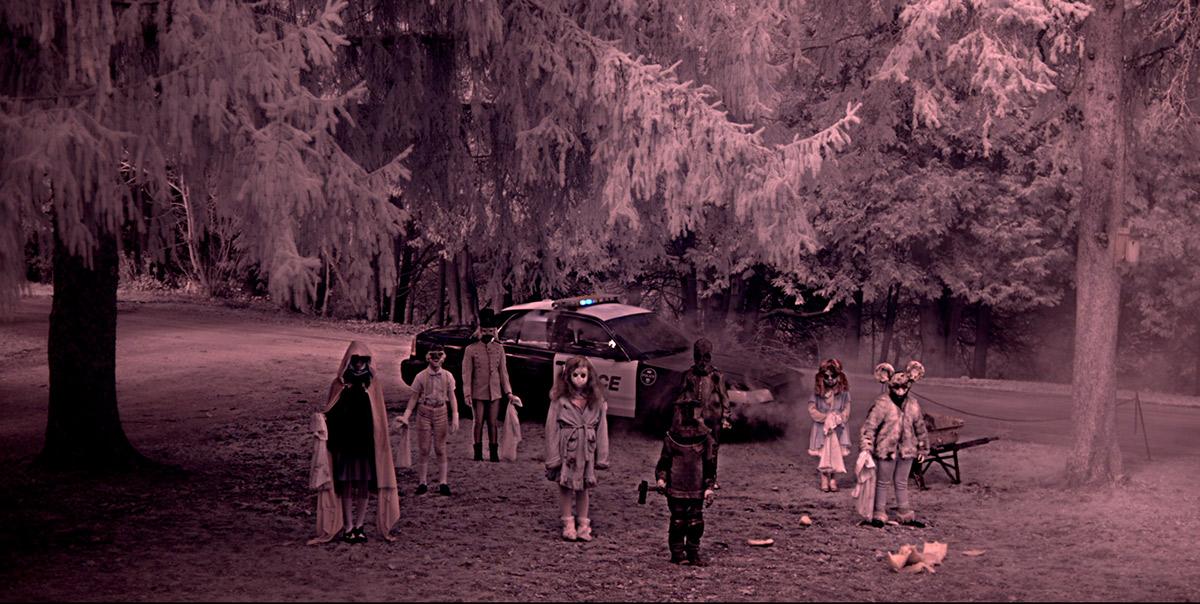 Bruce McDonald, Canada, Canadian Premiere
Seven years after his much-loved zombie thriller
Pontypool
, Canadian maverick Bruce McDonald returns to the horror genre with this deliciously creepy tale about a pregnant teen whose home is besieged by a ghastly crew of trick-or-treaters.
Mark Sawers, Canada, North American Premiere
This wry mockumentary from Vancouver director Mark Sawers envisions a world where women have become asexual and are no longer giving birth to males, and where the dwindling population of men are desperate to reclaim their place in the sun.
The 40th Toronto International Film Festival runs September 10 to 20, 2015. Purchase Festival ticket packages online 24 hours a day at
tiff.net/festival
, by phone from 10 a.m. to 7 p.m. ET daily at 416.599.TIFF or 1.888.599.8433, or visit the Gupta Box Office at TIFF Bell Lightbox in person from 10 a.m. to 10 p.m. ET daily at TIFF Bell Lightbox, Reitman Square, 350 King Street West, until August 26 while quantities last. TIFF prefers Visa.